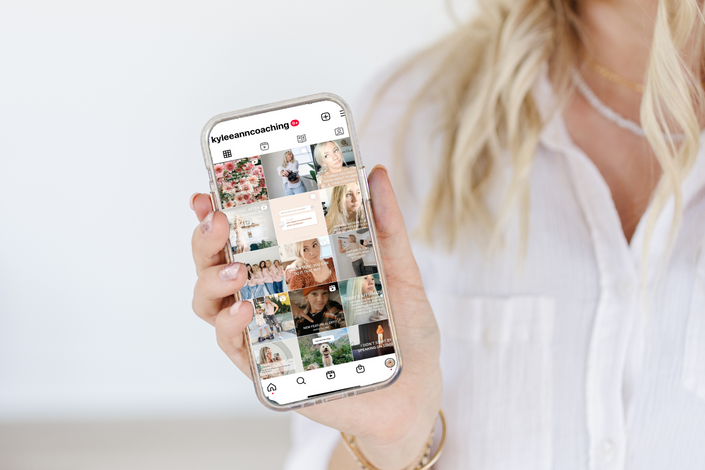 Reely Trendy | 4 Week Instagram Challenge
A class for posting with trending audio and consistency
Let's face it. If you are a small business owner, you probably know that you need to be using social media every day to market your business. The question is: How do you do that if you're already sooo busy?
One coach tells you that you need to use hashtags and groups to grow your following, another tells you to post reels everyday no matter what. But the REAL problem is elsewhere:
Having the time and energy to come up with new content. every. single. day. (Ya know, the strategic kind of content that actually gets CUSTOMERS not followers.)
This overwhelm tends to stop business owners from posting on social media AT ALL.
But there is a SOLUTION.
-You don't have to spend 30 minutes trying to come up with content ideas anymore.
-You don't have to skip marketing your business at all due to the overwhelm.
-You don't have to post and pray.
How about instead you get a personalized action plan ONE day at a time? In just a few minutes, you post and can check "marketing my business" off your never-ending to do list?
This solution is….a content plan designed for YOU. (Challenge edition. Because everyone thrives with a challenge.)
Use our 4 Week Marketing Challenge to make strategic, personalized posts that attract your target market and turn followers into customers every single day.
+ Push past your mental blocks
+ Learn new strategies and tools to market your business
+ Learn which posts WORK for your followers
+ Get consistent
What's included?
Exclusive Facebook Group
4 Weeks of Daily Marketing Challenges (M-F)
Saved Live Video Pep Talks and Explanations
Includes Instagram Posts, Stories and Reels with Examples
Some bonuses:

Update your instagram Bio to attract your target market
Create an opt-in to start gathering those emails
Learn how to ask for Google Reviews
Improve your insights!
Learn new strategies and systems
Have fun on social media again!
Frequently Asked Questions
What is this 4 Week Marketing Challenge?
Daily action steps for 4 weeks x 5 days a week. Every day, I will share a strategic way to market your business. Right away you will be posting on Instagram 5 times a week using Reels, Carousels, Stories and special features. I will share examples, and you can use the Facebook group to ask questions when you get stumped.
Who is this 4 Week Marketing Challenge for?
If you are someone who... 1) doesn't have time or energy to post on social 2) has sporadic or non-existent marketing plan 3) needs accountability and simplification 4) wants to learn how to turn followers into clients 5) are scared to use Reels ...this challenge will help you post consistently with a real proven strategy. *Works best with Instagram
Why is 4 Week Marketing Challenge so great?
I am helping you create a personalized plan for your business in less than 15 minutes a day. What's better than a consistent, strategic plan that you don't have to think of yourself?
What makes this Marketing Challenge different from content plans?
Every day I will give you ONE thing to work on in your business. One strategic post idea. Bite sized, simple.This challenge is for action takers ready to actually do the work but get overwhelmed by long courses.
Should I buy it now?
A wise man once said, "The best time to plant a tree was yesterday. The next best time is now." The same applies to you. If not now, then when? Imagine where you would be in a few months if you started today instead of waiting for the next time we do this challenge. You can do this!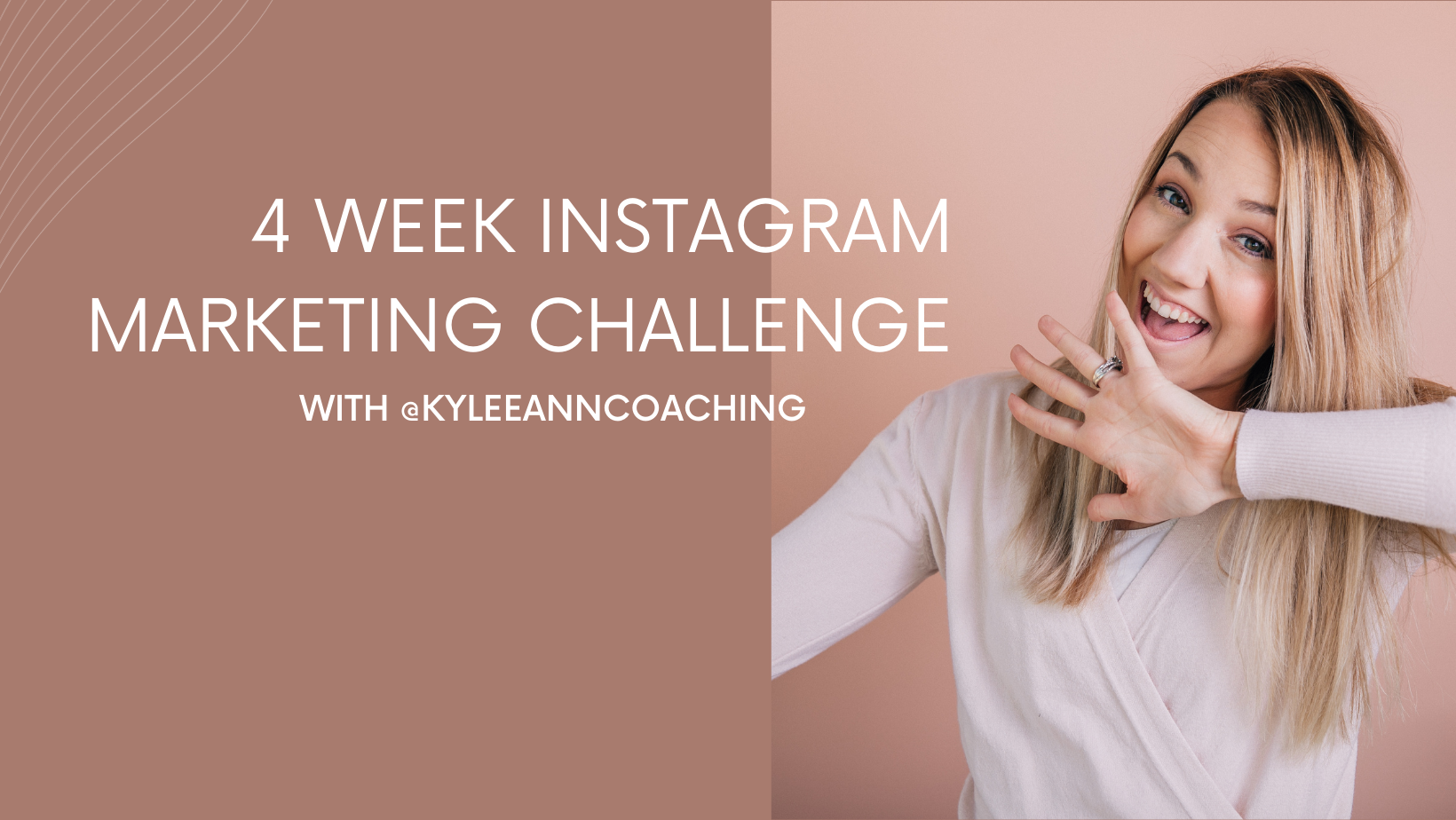 Imagine one month after you've posted on stories, reels or carousels every single day.
The peace, the relief, the customer inquiries, the bookings, the connections and the skills.
Posting on instagram daily does not guarantee a paycheck which is why so many entrepreneurs let their instagrams go on the back-burner.
However, if used consistently and strategically, social media can be your main lead generator and money maker. I hope you will achieve the same results as I have (or even better).
Let me tell you a story real quick.
When K signed up to coach with me she was using the sporadic post and pray method. Ditching it after a day or so of not working. After creating her a consistent content plan with my strategy, she started booking events, workshops and sessions like crazy.
Her goal of $2000/month felt steep for her especially during slow season, but she tripled it the first month, and is on track to quadruple it the next month.
How did she do it?

The same way I have for the past decade. A consistent & strategic marketing plan. You have to get in on this 4 Week Marketing Challenge so you can COPY my process, too.

Why would you do that?
So you can stop beating yourself up about going another week skipping posting online
So you don't have to reinvent the wheel everyday grasping at followers and wasting way too much time
So you don't have to post and pray that it will work. You'll just KNOW.
All you have to do it show up in the Marketing Challenge, and do the work each day.
Your Instructor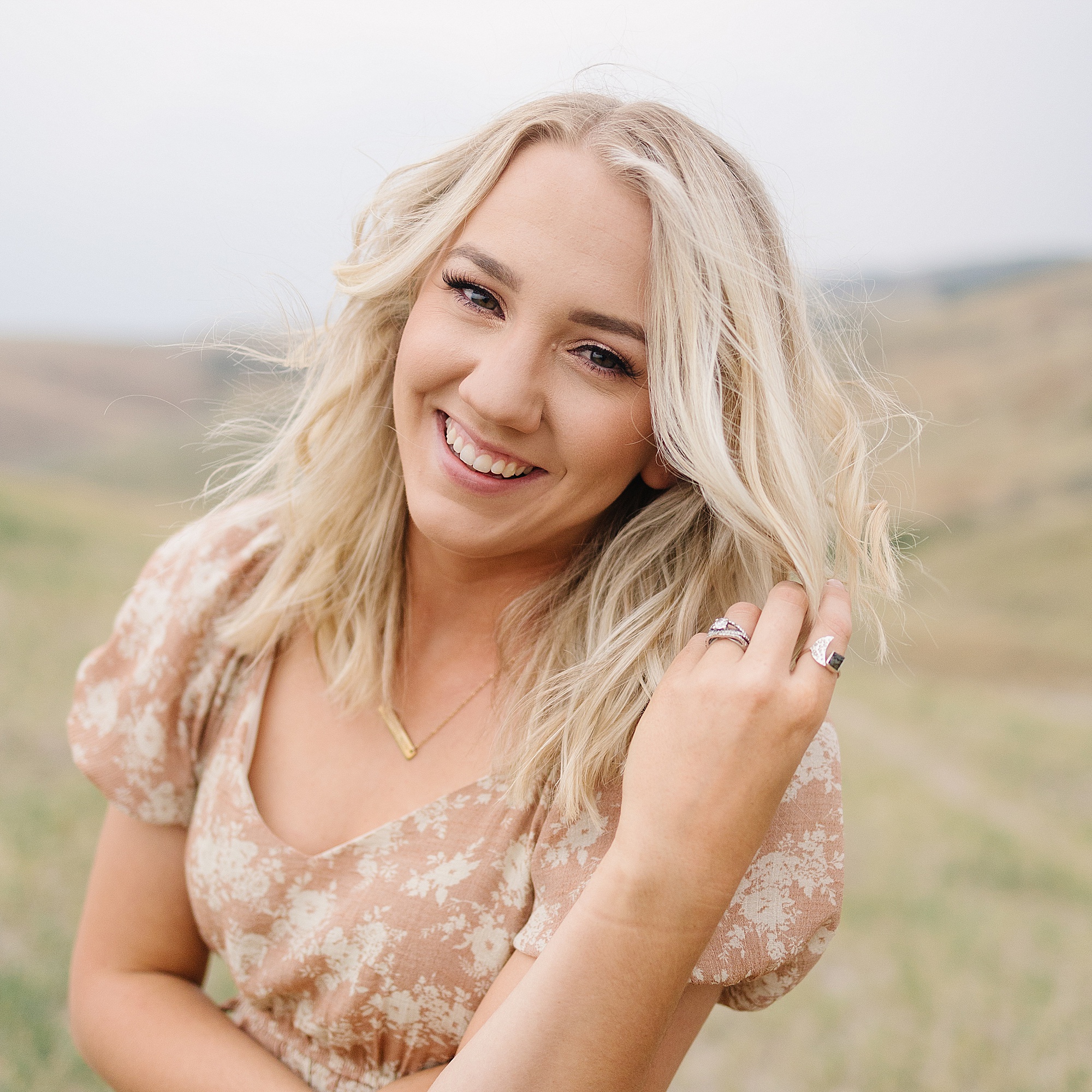 Kylee started Kylee Ann Studios 11 years ago and has since grown from a one woman amateur show to a full associate team of women. Not only is she the CEO of Kylee Ann Studios, but a coach for women in business, course created and the host of the Kylee Mentors Moms Podcast.
Kylee is on a mission empower women in their roles as business owners and mothers so they can be who they are called to be guilt-free and confidently. She hosts semi-annual retreats all over the US, online summits, speaks at conferences and teaches online courses about running a small business and marketing.
FOLLOW ALONG:
🎙 Kylee Mentors Moms Podcast
👇🏻 Certified Coach | Courses @KyleeAnnCoaching
💓 CEO Kylee Ann Studios Team