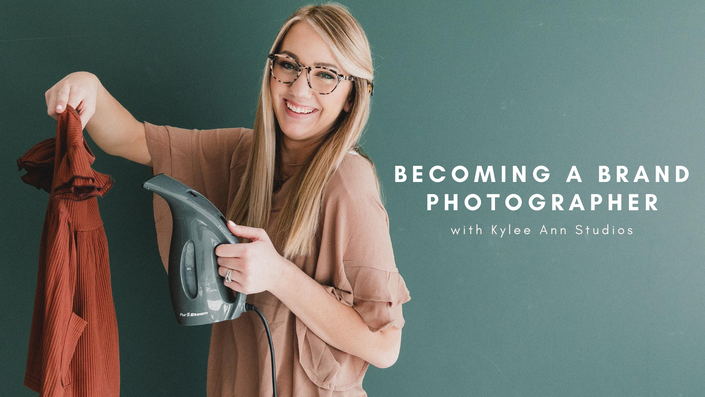 Becoming a Brand Photographer
Learn all the ins and out of becoming a brand photographer!
Enroll in Course
LEARN HOW TO BECOME A BRAND PHOTOGRAPHER! WHETHER YOU'RE JUST GETTING STARTED, OR YOU'RE READY TO RETIRE FROM THE NIGHTS AND WEEKEND WEDDING GIG.

• Why Brand Photography?
• How to Create your Own Identity while Shooting for Brands
• How to Price Yourself with Brands
• Three Types of Brand Photography you need to know
• What's in my Bag
• What's in my Studio
• How to Edit Brand Work
• All the Equipment You Need to Get Started
• How to Organize, Style and Schedule a Big Shoot
• Working with Models
• Finding Brands to Reach Out to and What to Say
• How to Build an Awesome Portfolio from Scratch
• What you need on your Website
• How to Keep your Clients Organized in a CRM
• How to work with Brands Locally and From Out of State
• Affiliate Links to the Contracts I LOVE!
• Tips to Keep your Sanity when things get Busy
• Organic Marketing and More!
When I started Kylee Ann Photography nearly a decade ago, I was shooting everything from weddings to families to births. After years of hustling nights and weekends, I realized I was starting to miss my kid's soccer games and nights with my family. And something had to change.

I had TWO options. Cut back and just take great pictures of my kids for fun or start transition to shooting brands and work during the day during school hours instead. It was then and there that I committed to being a brand photographer.

My business quickly went from nights and weekends, to 10-2 four days a week for a consistent, amazing paychecks monthly...even in the slow season.

After I niched into commercial photography:
- I filled up my calendar monthly with repeating clients instead of constantly having to market for new business
- I made 5 figures every month, even during slow season
- I stopped missing soccer games, and kept my work hours within my big kid's school schedules
- I made paychecks and was able to shoot products EVEN and ESPECIALLY during a global pandemic

I am passionate about teaching photographers how find their niche in Small Brand Photography and become profitable photographers without giving up their lives.